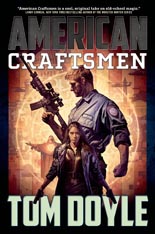 It sounds like a genre plot line, but fantasy and science fiction stories often converse with other books. My debut novel from Tor certainly does. AMERICAN CRAFTSMEN is a modern-day fantasy of military intrigue. The craftsmen of the title are magician soldiers and psychic spies descended from the founding families of the country. Two craft soldiers from rival families, Captain Dale Morton and Major Michael Endicott, fight against a treasonous cabal in the Pentagon's highest covert ranks.
"Converse" may be an understatement; I wrote AMERICAN CRAFTSMEN as a book in love with other books. For my cryptohistorical backstory, I've imagined that Hawthorne, Poe, and other early American authors of the fantastic wrote thinly veiled nonfiction chronicling different parts of the saga of the craft families. The American canon thus becomes one big shared occult world writing project.
My thriller plot doesn't assume any particular literary knowledge, but I hope you'll enjoy finding some Easter Eggs of this nation's literary past in this thoroughly modern story. I've used some sources more than others. For example, Poe's "The Fall of the House of Usher" becomes an oblique account of the evil branch of Dale's ancestors, the twins Roderick and Madeline Morton, and Madeline's live burial is no accident. I use Poe's "The Masque of the Red Death" as the source for Roderick's style of dress when he would go on a killing spree.
From Hawthorne's "The Scarlet Letter," I've taken one of Dale's powers: the ability to see the sins of others as glowing letters radiating from their bodies. It's not always my imagination that there's a true history behind the tale. For instance, in "The Maypole of Merry Mount," Hawthorne gave a fictional spin to the real-life confrontation between the historical ancestors of the Mortons and the Endicotts.
Though Hawthorne and Poe are the sources I use most, I also have a lot of literary cameos. As an example, the parlor of the House of Morton has sickly yellow wallpaper in a nod to the early feminist story, "The Yellow Wallpaper," by Charlotte Perkins Gilman.
As I indicated at the outset, this magpie rifling through other books is not new in the fantasy and science fiction genres, where pastiche and allusion are common. The novels of Dan Simmons often engage several parts of Western canon at once, and it seems as if most of Victorian fiction makes an appearance in Kim Newman's Anno Dracula. Some critics view the whole of steampunk as pastiche. Roger Zelazny's Lord of Light draws on the great Hindu epics. Pastiche sometimes has a bad name, so that when it's done well, it's often called something else: homage. (When it's done well by a great author like Virginia Woolf in Orlando, it's just called literature.)
Besides whatever plot they have, all the above works are also about the love of reading. Since childhood, the references in fantasy and science fiction have always led me to other fictional and nonfictional texts. This relates to one of the reasons I've chosen to use nineteenth-century authors of the fantastic for my novel's backstory. For some of us, the American canon acquired the sour taste of required high school reading and has never recovered. Though my primary hope is that readers find my book entertaining, I also hope that AMERICAN CRAFTSMEN may lead a few readers back to these early American stories with new eyes, and that they can rediscover the weird mythos waiting for us in our own backyard. —Tom Doyle