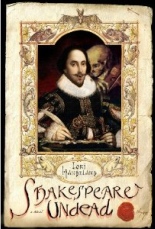 Vampires may be all the rage at the cinema and on TV these days, but zombies still reign supreme on bookshelves. And not every zombie book is like the other, either. Witness this deadly half-dozen — plus one — of books that step out (albeit on decrepit heels) and stand out in the subgenre. —Rod Lott
SHAKESPEARE UNDEAD by Lori Handeland — William Shakespeare was one of history's greatest writers, a master of words with a body of work that is truly impressive … some may say a little too impressive for a single man to accomplish in one lifetime. Perhaps, as many have speculated, he had assistance. Or perhaps the explanation is more … unusual. Who was William Shakespeare? Who was the Dark Lady of the Sonnets? Why are the undead stalking the alleyways of London? And can they be stopped? Something is definitely rotten in the state of Denmark.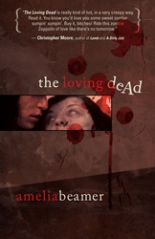 THE LOVING DEAD by Amelia Beamer — Kate and Michael are roommates living in the Oakland hills, working at the same Trader Joe's supermarket. A night of drunken revelry changes their lives forever, but not in the way that anyone would expect. A slow-spreading plague of zombie-ism breaks out at their house party, spreading amongst their circle of friends, and simultaneously through the Bay Area. This zombie plague — an STD of sorts — is spread through sex and kissing, turning its victims into mindless, horny, voracious killers. Thrust into extremes by this slow-motion tragedy, Kate and Michael try to stay alive and reunite in the one place in the Bay Area that's likely to be safe and secure from the zombie hoards: Alcatraz.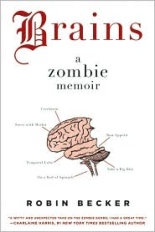 BRAINS: A ZOMBIE MEMOIR by Robin Becker — College-professor-cum-zombie Jack Barnes is a different breed of undead: He can think. In fact, he can even write. And the story he has to tell is a truly disturbing — yet strangely heartwarming — one. Convinced he'll bring about a peaceful coexistence between zombies and humans if he can demonstrate his unique condition to Howard Stein, the man responsible for the zombie virus, Barnes sets off on a grueling cross-country journey to meet his maker. Along the way, he recruits a small army of "super" zombies that will stop at nothing to reach their goal. United, they embark on an epic quest to attain what all men, women — and, apparently, zombies — yearn for: equality.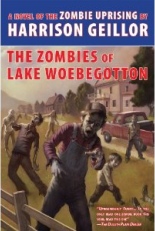 THE ZOMBIES OF LAKE WOEBEGOTTON by Harrison Geillor — The town of Lake Woebegotton, Minn., is a small town, filled with ordinary (yet above average) people, leading ordinary lives. Ordinary, that is, until the dead start coming back to life, with the intent to feast upon the living! Now this small town of above average citizens must overcome their petty rivalries and hidden secrets in order to survive an onslaught of the dead.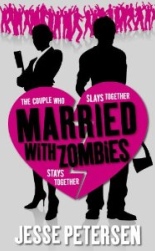 MARRIED WITH ZOMBIES by Jesse Petersen — Meet Sarah and David. Once upon a time, they met and fell in love. But now they're on the verge of divorce and going to couples' counseling. On a routine trip to their counselor, they notice a few odd things: the lack of cars on the highway, the missing security guard, and the fact that their counselor, Dr. Kelly, is ripping out her previous client's throat. Now, Sarah and David are fighting for survival in the middle of the zombie apocalypse. But, just because there are zombies, doesn't mean your other problems go away. If the zombies don't eat their brains, they might just kill each other.
DOG BLOOD by David Moody — The Earth has been torn into two parts by an irreversible division. Whether due to nature, or the unknown depths of the mind itself, everyone is now either Human or Hater. Victim or killer. Governments have fallen, command structures have collapsed, and relationships have crumbled. Major cities have become refugee camps where human survivors cower together in fear. Amidst this indiscriminate carnage, Danny McCoyne is on a mission to find his daughter Ellis, convinced that her shared Hater condition means her allegiance is to people like him. Free of inhibitions, unrestricted by memories of peace, and driven by instinct, children are pure Haters, and may well define the future of the Hater race.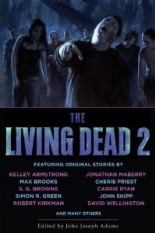 THE LIVING DEAD 2 edited by John Joseph Adams — Acclaimed editor Adams is back for another bite at the apple — the Adam's apple, that is — with 43 more of the best, most chilling, most thrilling zombie stories anywhere, including virtuoso performances by zombie fiction legends Max Brooks, Robert Kirkman and David Wellington. Ghoulishness has never been more relevant. Within these pages, samurai warriors face off against the legions of hell, necrotic dinosaurs haunt a mysterious lost world, and eerily clever zombies organize their mindless brethren into a terrifying army. You'll even witness nightmare scenarios in which humanity is utterly wiped away beneath a relentless tide of fetid flesh.