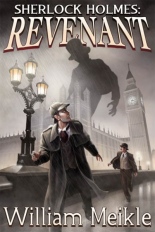 Fueled by the continuing adventures of the Great Detective both on the big screen and the small screen, Sir Arthur Conan Doyle's most famous creation is busier in books than ever, including these recent reads. We'll let their respective publishers take it from here … —Rod Lott
SHERLOCK HOLMES: REVENANT by William Meikle — A strange sickness affecting the members of the House of Lords starts a new adventure for Holmes and Watson, one that will see them on the run, accused of murder and pursued by both the police and a deadly gang of assassins. The case takes them up and down the country, from Scotland to the Houses of Parliament and leads them down arcane paths, following their relentless foe in pursuit of the lost secret of immortality. Their adversary seems hell-bent, not only on their destruction but on an act of terrorism that will shake London to its foundations.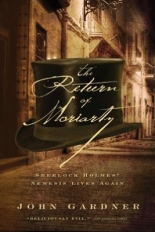 THE RETURN OF MORIARTY: SHERLOCK HOLMES' NEMESIS LIVES AGAIN by John Gardner — What really happened in Switzerland between Moriarty and Sherlock Holmes in 1891? And why is Holmes, now in London at 221B Baker Street, curiously uncooperative with Scotland Yard's inquiries? Furthermore, why has Moriarty planned a grand meeting with the international crime syndicate? These are the questions that make up the larger mystery of the sinister Professor Moriarty's return.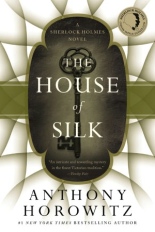 THE HOUSE OF SILK by Anthony Horowitz — London, 1890. 221B Baker St. A fine art dealer named Edmund Carstairs visits Sherlock Holmes and Dr John Watson to beg for their help. He is being menaced by a strange man in a flat cap — a wanted criminal who seems to have followed him all the way from America. In the days that follow, his home is robbed, his family is threatened. And then the first murder takes place. Almost unwillingly, Holmes and Watson find themselves being drawn ever deeper into an international conspiracy connected to the teeming criminal underworld of Boston, the gaslit streets of London, opium dens and much, much more.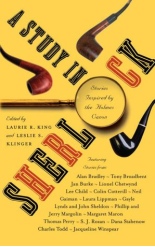 A STUDY IN SHERLOCK: STORIES INSPIRED BY THE HOLMES CANON edited by Laurie R. King and Leslie S. Klinger — Neil Gaiman. Laura Lippman. Lee Child. These are just three of 18 superstar authors who provide fascinating, thrilling and utterly original perspectives on Sherlock Holmes in this one-of-a-kind anthology. These modern masters place the sleuth in suspenseful new situations, create characters who solve Holmesian mysteries, contemplate Holmes in his later years, fill gaps in the Sherlock Holmes Canon, and reveal their own personal obsessions with the Great Detective.