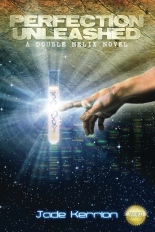 What would you do if you came face-to-face with perfection, and it looked just like you? Find out in Jade Kerrion's debut novel, PERFECTION UNLEASHED, which unites cutting-edge science and bioethics with fast-paced action. Drawing rave reviews for its originality and vision, and lauded as "a breakout piece of science fiction," it is a Royal Palm Literary Award 2011 winner, a Next Generation Indie Book Award 2012 finalist and a Hollywood Book Festival Award finalist. And if you need any more reasons why you should read it, Kerrion herself tells us why in the essay below … as well as tempting you with a $25 Amazon gift certificate, so enter to win!
Readers tell me PERFECTION UNLEASHED is different. They say it is "not something you've read a thousands times before with different names and locations attached. It is truly a thing in and of itself" and has "truly broken new ground." A judge for the Royal Palm Literary Award called it "a breakout piece of science fiction."
I didn't necessarily set out to create a breakout piece of science fiction, though I will admit to reading Donald Maass' WRITING THE BREAKOUT NOVEL several times. I set out to write the story I wanted to read. I was tired of pointy-toothed bloodsuckers, hairy lycanthropes and animal-human shape shifters, and I decided that the world could use a story where differences were less distinct and yet more profound. Less distinct because ultimately the characters in PERFECTION UNLEASHED are all human, more profound because it draws our attention to what's in us — our genes — that make us different.
So, what makes PERFECTION UNLEASHED really different? It's hard to say — I think readers enjoy different aspects of it — but here's a short list, the combination of which, I suspect, makes it different: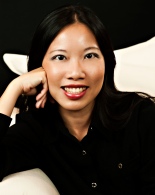 1. It's a thrilling, fast-paced action-adventure … I write the movie I see in my mind, but I'm still pleasantly surprised when readers pick up on it and see the movie instead of just words on a page. "Take some of the excitement you find in many graphic novels and flesh that out with some outstanding characterization and stellar action scenes and you've got this book."
2. … with a dash of sociology and philosophy to make you think… I'm a philosophy major; I can't help it.  PERFECTION UNLEASHED explores the questions relating to privilege of birth and fairness in society, among other things. Says a reader, "The best part of this story had to be that it presented some very deep questions, presented in a clear fashion within the story. It opened up questions about our world even as it is now (despite the book being set 50 years in the future), our state of morals, our emotions, and even about our governments."
3. …and enough plot twists to keep you on your toes. "PERFECTION UNLEASHED is intelligently written with layers and layers of plot." I personally thought the plot twists were obvious, but perhaps that's because I'm the one holding all the cards. While it wasn't written from the perspective of a crime thriller or murder mystery, I did write with an eye toward creating inner and outer conflict, and page after page of tension. That's what Donald Maass told me to do, after all.
You'll find unlikely heroes in PERFECTION UNLEASHED. Danyael Sabre, the alpha empath, will be forced to confront the past he thought he left behind, and embrace the mutant powers he never wanted. Galahad, the perfect human being, supposedly the pinnacle of perfection for the human race is, instead, the catalyst for change. Galahad will evolve through the series as he attempts to answer the question, "Perfect for what?"
I invite you to explore the world of the double helix through my debut novel, PERFECTION UNLEASHED. I hope you enjoy reading it as much as I enjoyed writing it. —Jade Kerrion