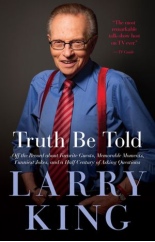 1. I'm not sure which comes first — acceptance or belief.
2. I would love to have met Groucho.
3. Americans are very forgiving.
4. Mel Brooks is the funniest person I've ever met.
5. A broadcaster can not be late. Well, he can.
6. Well, of course I met Bob Marley. It was no big deal.
7. This song reminds me of a good time I had with Bob Costas.
8. I've always hated gossip.
9. Artie Shaw was a genius.
10. My point is: I'm not Sam Snead.
11. Lincoln's name has seven letters.
12. If you're ever going to interview Barbra Streisand—do it live.
13. Me, I'm a guy who likes to remember the great riffs Lenny Bruce used to do about telethons.
14. In Brooklyn, if you say you're going to be dangerous, you'd better be dangerous.
15. When I see Bono, I don't see a musician.
16. Piers gave me a pair of Union Jack suspenders. They were clip-ons, but I appreciate the gesture.