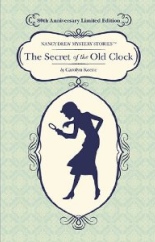 Nancy Drew is 80 years old! To celebrate, Carolyn Keene's first mystery featuring the young sleuth, THE SECRET OF THE OLD CLOCK, has been reissued by Grosset & Dunlap in a limited anniversary edition. Here, Nancy Drew expert Jennifer Fisher sniffed out 14 fun facts about one of fiction's most enduring crime solvers.
1. Edward Stratemeyer created Nancy Drew.
2. The first three books in the series — THE SECRET OF THE OLD CLOCK, THE HIDDEN STAIRCASE and THE BUNGALOW MYSTERY — all debuted on April 28, 1930.
3. Besides blue, Nancy Drew's car has been yellow, green and even maroon.
4. Carolyn Keene was a pseudonym for many ghostwriters over the years.
5. In the early books, Nancy often wore glamorous heels and fashionable frocks while chasing suspects, climbing ladders and sleuthing for "ghosts" in secret passageways.
6. Nancy Drew never takes money for her detective work — she is an amateur detective after all!
7. Since 1930, Nancy Drew has solved over 500 cases! Pretty good for an 80-year-old sleuth.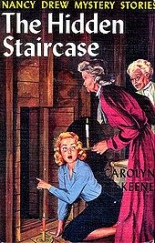 8. In the classic Nancy Drew series, volumes 1-56 from 1930 to 1979, Nancy Drew never solved murders.
9. Nancy Drew's chum George Fayne's catch phrase was "Hypers!" ("Like, wow!")
10. One of Bess Marvin's favorite foods was a gooey chocolate fudge sundae.
11. Nancy Drew went off to college in a short-lived series, NANCY DREW ON CAMPUS.
12. Nancy Drew's first trip outside the United States was to Canada in
the original text of THE MESSAGE IN THE HOLLOW OAK.
13. Nancy Drew packed heat, carrying her father Carson Drew's revolver in two early mysteries: the 1930 text of THE HIDDEN STAIRCASE and the 1931 text of THE SECRET AT SHADOW RANCH (she shot a lynx.) In contrast, in the 1965 Nancy Drew book, THE SPIDER SAPPHIRE MYSTERY, when confronted with guns, Nancy and her pal George Fayne tossed them into a brook.
14. Some famous Nancy Drew fans include: Supreme Court Justices Sonia Sotomayor, Ruth Bader Ginsburg and Sandra Day O'Connor; first lady Laura Bush; TV personalities Oprah Winfrey and Barbara Walters; mystery authors Nancy Pickard, Sara Paretsky, P.M. Carlson and Susan Kandel; plus actresses Barbara Streisand, Emma Roberts and Ellen Barkin. —Jennifer Fisher