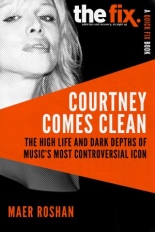 Controversy has been courted by COURTNEY COMES CLEAN: THE HIGH LIFE AND DARK DEPTHS OF MUSIC'S MOST CONTROVERSIAL ICON, an ebook on musician Courtney Love by Maer Roshan, founder and editor-in-chief of the popular addiction and sobriety website The Fix. COURTNEY COMES CLEAN is now available on the iPad, Nook and other e-readers, and below are some juicy excerpts, including how crack improved her math skills!
She also talks about her recovery from addiction as well her plans for Kurt Cobain's estate.
Courtney's musings on living a (mostly) drug-free life:
"I think of myself as sober," Love says, though she admits that her daily diet of prescription meds wouldn't pass muster at an AA meeting. "When you're used to heroin and cocaine, a few pills doesn't seem like the end of the world. As they say in AA, it's about progress, not perfection. I mean, abstinence is a nice idea, but I don't know if it's right for everyone. Especially for someone who was nursed on a steady diet of Valium and Ritalin from the time I was seven, thanks to my fine mother." …
"[But] I'm not a junkie anymore. I'm an establishment woman, godammit! I'm a fucking plutocrat! I'm fun, I'm sober, I'm fabulous! I have a few character defects, but I'm not dishonorable, and I'm not a liar. I have a good heart. There are a few things I do really well. I write good lyrics and sing. I love beautiful clothes and good music. I adore movies and acting. But unfortunately I suck at social graces. I lack a certain set of basic life skills, which is probably why I got into drugs in the first place. All I need is someone to give me a course in living… . When I was taking all the drugs, I just felt neutered and dull, like a nun. They helped get rid of all these uncomfortable feelings in my brain. So getting off drugs has made me feel really sexual and tender … like a 16-year-old virgin."
Her plans to auction off part of Kurt Cobain's estate:
Sources claim that the cash-stripped singer is planning an imminent auction of her former husband's estate, which could bring in as much as $100 million. Her daughter, who owns a smaller but still-significant percentage of the estate, is reportedly not thrilled at the prospect. The strained relationship between the two presents further complications: Neither is legally allowed to enter the Cobain warehouse unaccompanied by the others representatives. Courtney recently tweeted her daughter that they could save time and money, and avoid much heartache, if Frances simply hung Post-It notes on the possessions she wanted to keep. But Love's rights to Cobain's paintings, papers and other effects, currently housed in an pricey L.A. storage facility, are in question. While she still controls her husband's estate, her failure to pay the expensive storage fees may have jeopardized her ownership.
Her odd relationship with Sam Lutfi, Britney Spears' controversial former manager:
Love has dismissed many long-time staffers in recent years, including Marie Walsh Dixon, a veteran associate who went on to work for her daughter Frances. She allegedly fired another employee after he declined to take her to Amy Winehouse's funeral. Other employees left after Love failed to pay them; several are suing her for unpaid wages. Increasingly isolated, she has turned to Sam "Osama" Lutfi, a 37-year-old sober coach who has played a prominent role in her day-to-day affairs. A swarthy Svengali who claims to have psychic powers, Lutfi rose to prominence in 2007 while representing Britney Spears during her much-publicized breakdown. (Spear's family successfully sued him to win back control of their daughter.) Lutfi told The Fix he has no formal relationship with Love, whom he describes as "just a friend". But Courtney's associates claim that he exerts a growing influence over her life and her career.
Love's mother, Linda Carroll, on her daughter's early problems, and on rumors that she played a role in Cobain's death:
"I've tried my best but I'm not the perfect mother," Carroll says in a rare interview. "Courtney has always painted me as this neglectful parent. But I'm not the person that she portrays me to be. When she was young I'd react to her volatility by distancing myself. Sometimes she really scared me. The truth is, I love her very much, but Courtney was never a typical child. Her problems were beyond me."? But she passionately defends her daughter against widely circulated rumors that she played a role in Cobain's death. "Every time I hear someone say that I feel physically ill," says Carroll. "Courtney may be very impulsive and she makes terrible choices at times, but that doesn't make her a murderer. She loved Kurt very much. She has nothing capable inside her like that. Kurt was the only person Courtney ever really attached to."
On nearly becoming homeless after her husband's suicide:
"When Kurt died, I just fell into this endless spiral. I was doing drugs from the moment I woke up till the time I went to bed. I was out of it most of the time. I was naïve. I was stupid. I did what I was told to do. And by the time I figured out what was going on, I didn't have a dime left to my name. I hired a forensic accountant to find out how all these fucking people had managed to screw me so royally with all the fake credit cards. Kurt earns more money than any other deceased musician in history. One year, he even made more than Elvis! But I was so broke that Frances and I had to move in with my stepfather to stay off the street. All that time, these lawyers and accountants were feasting on billions of my dollars, and Frances and I didn't have a dime! We didn't have money to eat."
On getting cocaine delivered to Dr. Phil's house:
"I was living in Dr. Phil's mansion on Alpine. Just as you'd expect, it was an awful, hideous place, with all these big dumb carrots and turnips splashed all over the kitchen walls. I had intended to flip it, but since it was decorated exactly like you'd think Dr. Phil would decorate his house, it wasn't exactly an easy sell. So I ended up staying there for a while, though I wasn't a big hit with the neighbors. The police department doesn't approve of musicians with tattoos living on the west side of Sunset Boulevard. As long as we stay on our side of the border, we're fine, but if you dare to cross over, you'd better watch out. Stupidly I was getting bundles of blow delivered to my house by a mulatto in a Nissan with a dragging muffler. I was living three blocks from the Beverly Hills Police Department. My house was located two blocks from a school… . The police got a warrant and just came crashing into my house. After that I didn't cop for the rest of my life. Since then no drug transaction involving cash and Courtney Love has ever occurred."
Never-published details from Frances Bean's deposition in support of her temporary restraining order:
In December 2009, after a physical fight with her mother, Frances filed a restraining order against Love in LA superior court. Backed by testimony by her male nanny and others, the judge granted her request. Despondent over her relationship with Frances Bean, Courtney said, "It's hard to understand what I did to make Frances treat me like this. We slept in the same bed till she was 14." But the sealed deposition papers provide a look at Frances's harrowing life at the time.
    In a sworn statement to the court on December 10, 2009, Frances recalled accompanying her mother to the home of a former boyfriend, James Barber, years earlier. "She took me in a taxi to his house in the middle of the night, and from outside the house, in her bare feet, she screamed at him, threw rocks at the house, and threatened to burn his house down. His children were inside the house, but that did not stop my mother."
    "My mother is obsessed with uncovering fraud and spends much of her day raging about the fraud that has been perpetrated on her and on me," her statement continued. "She incessantly rages about her many theories relating to the supposed incidences of 'fraud.' She slams doors, breaks things, stomps around the hotel or apartment and spends hours on the phone, yelling."
    Love "has taken drugs for as long as I can remember. She basically exists now on … Xanax, Adderall, Sonata and Abilify, sugar and cigarettes. She rarely eats … She often falls asleep in her bed while she is smoking, and I am constantly worried that she will start a fire (which she has done at least three times) that will threaten our lives."
    According to the deposition, Love once threatened to jump off a balcony while her daughter watched.
    Frances further claimed that her cat died after getting entangled in piles of Etsy fabrics, boxes of paperwork, trash and other possessions, and that a dog died after swallowing a pile of Love's pills. In addition to keeping Courtney away from Frances, Frances' grandmother and Frances' aunt, the restraining order also prevents Courtney from contact with Frances's dog, Uncle Fester.
Her billion-dollar allegations of fraud:
In 2008, Courtney complained to the press that various corrupt lawyers and accountants had cheated her out of $250 million. By 2010, the figure had ballooned to $1 billion. In her quest to unmask the alleged thefts, she engaged a "twitter army" of volunteers who took to the Internet and examined property records to track down suspicious leads. But while some of those volunteers have backed up her claims of fraud, her distractions and failure to pay her employees have stood in the way of real progress.
How crack improved her math skills:
"The strange thing is, while the crack screwed me up in a lot of ways, it improved me in certain others. I've never been good with numbers, but when I was on crack I could do math really, really well. I became a fucking whiz at calculus."
On her ruined credit and shaky finances:
"Shortly after Kurt's death, the lawyer who was representing me called and said, 'Courtney, you have over $7 million coming to you, but you need to give me your Social Security number.' [I couldn't] remember my Social Security Number, so I had to lie and make one up. My mother, saint that she is, had a million husbands. My brothers and sisters were adopted by one stepfather, then by another. Thank God I was emancipated when I was 15, but ever since then I've wandered through life wondering who the fuck I am: Courtney Michelle Rodriguez? Courtney Michelle Menelli? Courtney Love? Courtney Cobain? It's like, I don't even know my fucking name! How am I expected to know my Social Security number?"?
How Andy Dick sparked her flame-out at Comedy Central's Pam Anderson Roast:
"That Roast wasn't a great moment for me. I was doped and dazed, and had lipstick smeared all over my face. I may have even been drooling. But it was all Andy Dick's fault. He handed me a fat pill right before the show and said, 'Courtney, here, take this — it's like Vicodin without the aspirin.' Winona Ryder slipped me a similar pill a few years ago. I'm such an addict that I just swallowed them both, without asking what they were. So thanks to Andy Dick, I ended up getting addicted to benzos again, which went on to plague my life. (Dick denies her account.)
Her "sisterly" advice to rival Chelsea Handler:
"I may not like what you stand for, but I do believe in sisterhood," she tweeted Handler, who had recently taken up with Love's ex-boyfriend, hotelier Andre Balazs. "You don't want to put gratitude in the hands of a man who doesn't accept you for who you are and never, ever will … No one in New York City, not even Trump, is despised more! I'm here to serve! Get help and work on your addiction/trauma, Chelsea! The kids call what you're doing fame-whoring. @Chelsea Handler, you're too dumb to get it! Yes I know he's telling you to take the high road and I'm telling you to take the fucking high road you low-life. GO 2 REHAB!"
How she deals with her cravings and addiction:
I go to twelve-step meetings from time to time, though I have to be careful when I'm selecting meetings. My interest in Buddhism and chanting helps as well. I just hired a Tibetan woman whose entire job is to help me chant. And there are people out there like Tony Robbins [the popular self-help author, life coach and motivational speaker] who I rely on and who get me centered and stable. I don't think there's just one right way out of this. I try everything I can."
On her drug use today:
"I don't do street drugs anymore. My medications are all legally prescribed by prominent physicians. I'm entirely legal. But the truth is, I've never claimed to be anyone's role model. I'm not Mother Theresa. All I'm trying to do is stay alive." —Maer Roshan