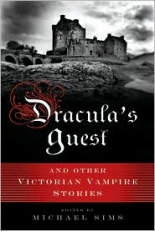 So around Halloween, my beloved hard drive decided to crash. Short story shorter, I lost all my data, including a slew of reviews I had written from summer to fall, but not yet posted. Rather than try and piece them together, I give up and instead offer this list of them all, using publisher-provided plot summaries so you can decide on your own whether your interest is piqued. And these are just the ones I remember … —Rod Lott
DRACULA'S GUEST AND OTHER VICTORIAN VAMPIRE STORIES edited by Michael Sims — Michael Sims brings together the very best vampire stories of the Victorian era — from England, America, France, Germany, Transylvania and even Japan — into a unique collection that highlights their cultural variety. Beginning with the supposedly true accounts that captivated Byron and Shelley, the stories range from Edgar Allan Poe's "The Oval Portrait" and Sheridan Le Fanu's "Carmilla" to Guy de Maupassant's "The Horla" and Mary Elizabeth Braddon's "Good Lady Ducayne." Sims also includes a 19th-century travel tour of Transylvanian superstitions, and rounds out the collection with Stoker's own "Dracula's Guest," a chapter omitted from his landmark novel.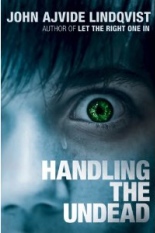 HANDLING THE UNDEAD by John Ajvide Lindqvist — In his new novel, John Ajvide Lindqvist does for zombies what his previous novel, LET THE RIGHT ONE IN, did for vampires. Across Stockholm the power grid has gone crazy. In the morgue and in cemeteries, the recently deceased are waking up. One grandfather is alight with hope that his grandson will be returned, but one husband is aghast at what his adored wife has become. A horror novel that transcends its genre by showing what the return of the dead might really mean to those who loved them.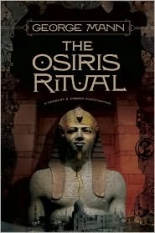 THE OSIRIS RITUAL by George Mann — A steampunk mystery adventure featuring immortality, artifacts and intrepid sleuths Sir Maurice Newbury and Miss Veronica Hobbes. Sir Maurice Newbury, Gentleman Investigator for the Crown, imagines life will be a little quieter after his dual successes solving The Affinity Bridge affair. But he hasn't banked on his villainous predecessor, Knox, who is hell-bent on achieving immortality, not to mention a secret agent who isn't quite what he seems. So continues an adventure quite unlike any other, a thrilling steampunk mystery and the second in the series of Newbury & Hobbes investigations.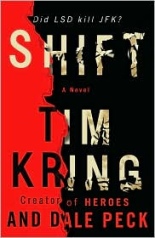 SHIFT by Tim Kring and Dale Peck — In the 1960s, Chandler Forrestal's life is changed forever when he is unwittingly dragged into a CIA mind-control experiment. After being given a massive dose of LSD, he de­velops a frightening array of mental powers. With his one-in-a-billion brain chemistry, Chandler's heightened perception uncovers a plot to assassi­nate President Kennedy. Propelled to prevent the conspiracy of assassi­nation and anarchy, Chandler becomes a target for deadly forces in and out of the government and is pursued across a simmering landscape peopled by rogue CIA agents, Cuban killers, Mafia mad men and ex-Nazi scientists … all the while haunted by a beautiful woman with her own scandalous past to purge, her own score to settle. Chased across America, will Chandler be able to harness his "shift" and rewrite history?
FIRST THRILLS: HIGH-OCTANE STORIES FROM THE HOTTEST THRILLER AUTHORS edited by Lee Child — Showcasing many of the International Thriller Writers' bestselling authors as well as rising stars in the genre, here are 25 brand-new, never-before published, stories packed with murder, mystery and mayhem. A cunning criminal thinks he can use a child to take the rap for his crimes. A hospital intern turned body-snatcher. A confederate soldier comes home to his love, but changed by more than just the war … he comes back wrong. The discovery of a flying saucer in the deep sea brings one man to the brink of a massive revelation. A clandestine operative finds himself caught in a wicked game of confusion … but who is calling the shots?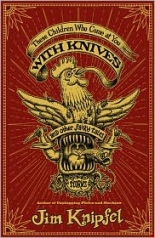 THESE CHILDREN WHO COME AT YOU WITH KNIVES, AND OTHER FAIRY TALES by Jim Knipfel — From the irresistibly droll mind of Jim Knipfel comes a series of twisted fables that echo with pinpoint acuity. A masterful storyteller whose memoirs and novels have earned him widespread acclaim, this is Knipfel's first foray into the short story, and he delivers in spades: This wickedly dark satire on the notion of happily ever after turns the traditional fairy tale on its head. Among the array of lonely losers wallowing in discontent, the enterprising reader of this volume may meet a talking chicken who learns the world has little patience for intelligence, a foul-mouthed gnome set on world domination, and a magical snowman wrestling with the horror of being alive.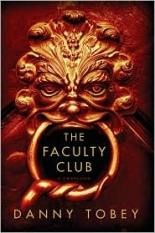 THE FACULTY CLUB by Danny Tobey — At the world's most exclusive law school, there's a secret society rumored to catapult its members to fame and fortune. Everyone is dying to get in. Jeremy Davis is the rising star of his first-year class. He's got a plum job with the best professor on campus. He's caught the eye of a dazzling Rhodes scholar named Daphne. But something dark is stirring behind the ivy. When a mysterious club promises success beyond his wildest dreams, Jeremy uncovers a macabre secret older than the university itself. In a race against time, Jeremy must stop an ancient ritual that will sacrifice the lives of those he loves most and blur the lines between good and evil.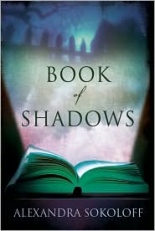 BOOK OF SHADOWS by Alexandra Sokoloff — Homicide detective Adam Garrett is already a rising star in the Boston police department when he and his cynical partner, Carl Landauer, catch a horrifying case that could make their careers: the ritualistic murder of a wealthy college girl that appears to have Satanic elements. The partners make a quick arrest when all evidence points to another student, a troubled musician in a Goth band who was either dating or stalking the murdered girl. But Garrett's case is turned upside down when beautiful, mysterious Tanith Cabarrus, a practicing witch from nearby Salem, walks into the homicide bureau and insists that the real perpetrator is still at large.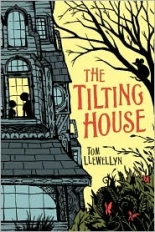 THE TILTING HOUSE by Tom Llewellyn — Talking rats. Growth potions. Buried treasure. Brothers Josh and Aaron Peshik are about to discover that their new home with the tilting floors hides many mysteries. When the boys and their neighbor Lola discover the hidden diary of F.T. Tilton, the brilliant but deranged inventor who built the house, they learn a dark secret that may mean disaster for the Peshik family. Can the kids solve the riddles of the tilting house before time runs out? Mad science, mischief and mishaps combine in this suspenseful and imaginative tale.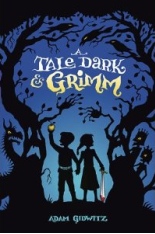 A TALE DARK AND GRIMM by Adam Gidwitz — In this mischievous and utterly original debut, Hansel and Gretel walk out of their own story and into eight other classic Grimm-inspired tales. As readers follow the siblings through a forest brimming with menacing foes, they learn the true story behind (and beyond) the bread crumbs, edible houses, and outwitted witches. Fairy tales have never been more irreverent or subversive as Hansel and Gretel learn to take charge of their destinies and become the clever architects of their own happily ever after.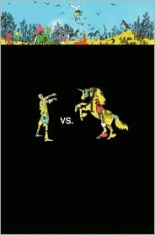 ZOMBIES VS. UNICORNS edited by Holly Black and Justine Larbalestier — It's a question as old as time itself: Which is better, the zombie or the unicorn? In this anthology, edited by Holly Black and Justine Larbalestier (unicorn and zombie, respectively), strong arguments are made for both sides in the form of short stories. Half of the stories portray the strengths — for good and evil — of unicorns and half show the good (and really, really bad-ass) side of zombies. Contributors include many bestselling teen authors, including Cassandra Clare, Libba Bray, Maureen Johnson, Meg Cabot, Scott Westerfeld, and Margo Lanagan. This anthology will have everyone asking: Team Zombie or Team Unicorn?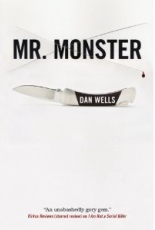 MR. MONSTER by Dan Wells — John Wayne Cleaver saved his town from a murderer even more appalling than the serial killers he obsessively studies. But it turns out even demons have friends, and the disappearance of one has brought another to Clayton County. Soon there are new victims for John to work on at the mortuary and a new mystery to solve. But John has tasted death, and the dark nature he used as a weapon — the terrifying persona he calls "Mr. Monster" — might now be using him. No one in Clayton is safe unless John can vanquish two nightmarish adversaries: the unknown demon he must hunt and the inner demon he can never escape.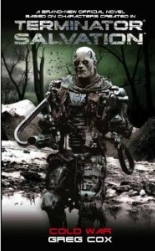 TERMINATOR SALVATION: COLD WAR by Greg Cox — Russia 2003. When it appears that the United States has unleashed its entire nuclear arsenal upon the world, Captain Dmitri Losenko, commander of the nuclear submarine Gorshkov, has no choice but to retaliate. His target? Alaska. Alaska 2018. Fighting for survival in the frozen wilderness, Molly Kookesh struggles to protect her makeshift Resistance cell from the Terminators. Inspired by John Connor's radio broadcasts and following a brutal encounter with a fearsome machine, she decides it's time to fight back …