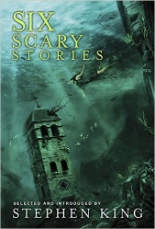 Pulling the next submission off my precariously balanced tower of books-to-review, and —
Hey, what's this? SIX SCARY STORIES by Stephen King.
Huh. I didn't know King had a new collection of short stories out. And this is a slim volume (only six stories, after all), so I can probably knock it out in an hour or so. Wonder why my friends (huge King fans) haven't been talking it up …
… um …
I see.