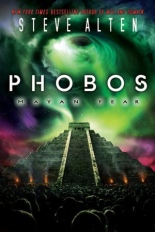 PHOBOS: MAYAN FEAR, Steve Alten's third book in his "Mayan Prophecy" series, is a doomsday rollercoaster ride of adventure that follows Immanuel Gabriel to the end of the world and back again for one last shot at salvation. During Immanuel's journey with his deceased grandfather, archaeologist Julius Gabriel, Julius reveals everything the Mayans knew and feared — from the secrets of creation that predate the Big Bang to the existence of extraterrestrials that have come to Earth to save our species.
We have five copies to give away, going to:
• Lisa McNulty of Chanhassen, Minn.
• Page Inman of Asheville, N.C.
• Mark Justice of Flatwoods, Ky.
• Sharon Berger of Albuquerque, N.M.
• Sam Cranes of Los Angeles, Calif.