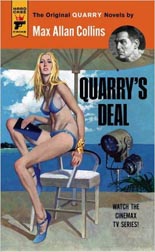 With the Cinemax series debuting later this year, Hard Case Crime continues reissuing Max Allan Collins' novels starring the hit-man character Quarry.
As 1976's QUARRY'S DEAL, the third book in the series opens, Quarry holds a list of names and addresses of others who also once worked for the Broker. Quarry has the great idea of finding one of them and finding his or her target, thinking he can get paid off by the would-be victim to not only take care of the killer for hire, but the person who hired them.
Quarry sets his sights on a young woman on the job, so to speak. He quickly figures out her target: a casino owner operating in Iowa. Quarry is quick to make himself known to the intended victim; all he has to do is figure out the team. He already has the woman under very close surveillance — by sleeping with her — but his digging around upsets a few people, who let him know that.