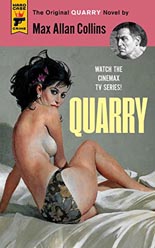 With the Cinemax series debuting in 2016, Hard Case Crime has begun reissuing Max Allan Collins' novels starring the hit-man character Quarry.
From 1976, the first book, QUARRY, sets the stage perfectly for the character Quarry. You know full well in the opening chapter what kind of man he is, watching him come upon his prey in an airport: a man dressed as a priest. In the restroom, the man pleads for his life, but Quarry has one thing on his mind: recover a package and then take care of this sniveling victim.
Yup, Quarry is a cold-blooded hit man who makes no bones about his vocation. What upsets him the most is the package itself: two packets of heroin. So when Quarry meets with his boss of sorts, aka the Broker, he makes it known that he is not one to push around, let alone screw with.