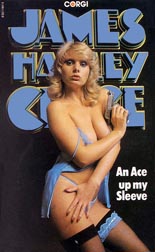 Cards are a central point of these three entries. Actually all three books make up a series from the prolific James Hadley Chase. Mainly tyne whole car motif deals with having an upper hand. Or worse a joker in the deck that pops up. So lets settle in for the adventures of Helga Rolfe.
AN ACE UP MY SLEEVE (1971) by James Hadley Chase
Helga Rolfe is the central figure in this story. That has more double crosses in its short length then most series have in their whole run. The book starts out innocently enough. We find Helga in Europe on one of her yearly trips for her husband. A crippled buisnessmen who controls an empire. She is there to meet up with their investment banker. And maybe find someone to help her pass her time.