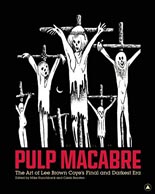 Late, great horror illustrator Lee Brown Coye certainly has his following; otherwise, Feral House would not be publishing this beautiful, haunting retrospective of his work. But I wonder if being familiar with the man before reading PULP MACABRE is the best way to experience it. Because I had not heard of him prior to this release, I was gifted with the joy of discovery.
But the rest of you already know what you're getting. Still, that chalks up as a win.
To quickly recap, Coye, who passed away in 1981, was an artist who worked for decades in a variety of media, yet is best-known for his illustrations for horror pulps such as the iconic WEIRD TALES and fiction collections of fantasists H.P. Lovecraft and Clark Ashton Smith.