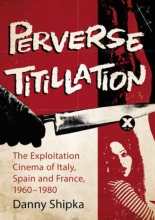 Damn you, Danny Shipka! Damn you and your new book, PERVERSE TITILLATION!
I mean, the book is a fantastic read, but it really added to my already too-long list of movies that I need to see and/or buy. For a book on films, threatening to take up much of future free time is the highest compliment I can give. And I'm going to be killing a lot of hours consuming these titles. So, again, damn you!
This one delivers on its subtitle as a journey through the revolutionary "Eurocult" genre of (in descending order of influence) Italy, Spain and France, with particular attention paid to its respective directorial titans, such as Mario Bava, Jess Franco and Jean Rollin. Italy's reign comprises the first half.