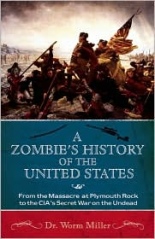 I've bitched about the proliferation of zombie novels and, of course, much like the ravenous undead they feature, the novels keep coming. Call it a fad. Call it a subgenre that won't go away. Call it my karma coming back to haunt me.
Call it what you will, but here are a quintet of recent books that feature a possible cause of the apocalypse … at least according to the CDC.
A ZOMBIE'S HISTORY OF THE UNITED STATES: FROM THE MASSACRE AT PLYMOUTH ROCK TO THE CIA'S SECRET WAR ON THE UNDEAD by the pseudonymous Dr. Worm Miller takes the position that zombies have been an intricate part of history, but largely covered up. Miller tells the story of the United States' last 200 years and how zombies played a major part in its formation.