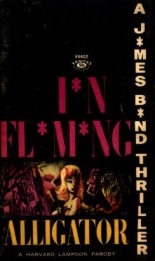 Unearthing buried treasures from pulp literature's yesteryear!
There was a time within living memory when James Bond was new. The first Bond novel, CASINO ROYALE, was published in 1953, and by the time the ninth volume in the series, THUNDERBALL, came out in 1961, the books had made author Ian Fleming a rich man. When President John F. Kennedy, in a LIFE magazine article that year, named FROM RUSSIA WITH LOVE as one of his favorite novels, and Fleming sold the film rights to 007, everything was in place for Fleming's enshrinement in the Pop Literature Hall of Fame.
And, of course, a visit from those Merry Pranksters at THE HARVARD LAMPOON.