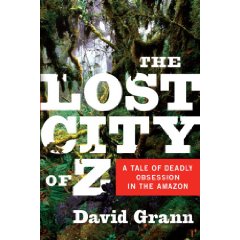 Another year, another year-end best-of list. Or several, actually, as a few BOOKGASM reviewers throw their proverbial two cents on the best — and some of the worst — that reading for pleasure had to offer, in fiction and nonfiction.
ROD LOTT'S BEST OF 2009:
THE LOST CITY OF Z: A TALE OF DEADLY OBSESSION IN THE AMAZON by David Grann — Grann reconstructs the 1925 adventure of explorer Percy Harrison Fawcett, who sought El Dorado, the fabled lost city of gold. In trying to solve one of mankind's greatest mysteries, Fawcett inadvertently created another. This is the best kind of nonfiction: that which thrills like its fictional counterparts.