Because time isn't always kind: economic reviews in a world full of waste!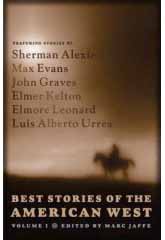 Edited by Marc Jaffe, BEST STORIES OF THE AMERICAN WEST: VOLUME 1 isn't the expected formulaic collection of saintly cowboys defeating crooked gunslingers or saving cattle from a raging river. Although the stories within handily qualify as Westerns, they all take place in the West – it just may not be the Old West. This is to your benefit, as we get modern-day, moving stories from the likes of Sherman Alexie and even John Sayles, better known as one of the more maverick auteurs working in indie film today. Throw in people like Elmer Kenton, who works solely in the genre, and others like Elmore Leonard, who cut his teeth in the genre, and you have a well-balanced meal of adventure and heartbreak.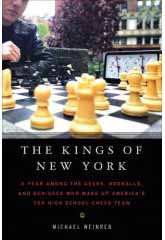 Across an entire season of competition, there's sure to be sweet victories, crushing defeats, high drama, raging egos and internal strife. And I'm not even talking about football, but high school chess. Sportswriter Michael Weinreb follows the ragtag boys of New York's Edward R. Murrow High in his nonfiction account of their bid for the national championship, THE KINGS OF NEW YORK: A YEAR AMONG THE GEEKS, ODDBALLS, AND GENIUSES WHO MAKE UP AMERICA'S TOP HIGH SCHOOL CHESS TEAM. The subtitle really nails these kids, mostly immigrants and poverty-level. They exhibit a real gift in front of a 64-board square, but are in danger of flunking their classes. They are among the most arrogant, self-centered youths you'll come across, yet are painfully awkward in any social situation and have very little common sense. Of course, this all makes for great conflict, and a gripping, tough-to-put-down look into the lives of some supremely talented but highly flawed youths. You want to cheer them and slap them at the same time.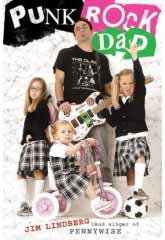 It's nice to know punk rockers can be normal guys, like Pennywise's Jim Lindberg, who reveals as much in PUNK ROCK DAD: NO RULES, JUST REAL LIFE. From the looks of it, you'd expect a memoir about his specific travails as a parent who's on tour a lot, but actually it's pretty much a straight autobiography, from his own childhood on up. He just happens to a fairly normal family life, with a supportive wife and three daughters in private school, where he shows up for parents' nights dressed in his punk regalia. As expected, Lindberg has a very easygoing "dude's dude" personality which translates to the page – more "talked-out" than "written" – making his story less than taxing to read, but also less than compelling. It's average but inoffensive, and could use a little more anarchy.
The title of JSA ALL-STARS refers not just to the superheroes, but the wealth of talent behind this eight-issue miniseries penned by Geoff Johns and David Goyer (screenwriter of BATMAN BEGINS and the BLADE trilogy), with backup stories from Darwyn Cooke, Howard Chaykin and even Pulitzer Prize winner Michael Chabon. The story finds the original members of the Justice Society of America (i.e. Flash, Green Lantern, Hawkman) at the mercy of a baddie named Legacy, who tells the newer members (i.e. Dr. Fate, Hourman, Mr. Terrific) that only ditching their emotional baggage (i.e. death of a spouse, parental strife, extreme guilt) can save them. Each issue focuses on a separate hero trying to do just that. The art is top-notch throughout, and the backup stories – with a bent toward having fun – provide a nice balance to the ongoing, more serious-minded arc. –Rod Lott