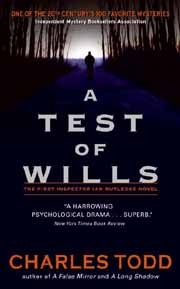 It is much harder to do a series character than most mystery authors seem to think. You have to make your protagonist interesting, perhaps with a gimmick that can be used to intrigue the reader. You have to make the character likable but not too saintly, vulnerable but not too fragile.
You have to reintroduce the character in each new book for readers just coming to the series, and you have to make the character grow and be dynamic from one book to the next, but not to grow too far from the roots that made the character popular in the first place. It's a tall task and it can be very limiting.
That's why it's such a joy to read of the adventures of Inspector Ian Rutledge. Rutledge is the creation of Charles Todd, a pseudonymous American mother-and-son team which has crafted Rutledge as a traumatized British ex-soldier from World War I.