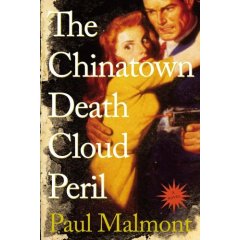 Going through 51 weeks' worth of reviews, one thought struck me above all others: "Geez, we covered a ton of books this year." You'd think that'd make it difficult to separate the wheat from the chaff, but no. These books below stuck out for a reason – click any of the links to read our original reviews.
Best in Fiction
For those of you among the BOOKGASM faithful, this should come as no surprise: Paul Malmont's THE CHINATOWN DEATH CLOUD PERIL made our summer, and nothing else came close before or since. Paying tribute to pulp fiction in a literary style, Malmont excites while eliciting emotion – no easy task – and emerges with the year's best made-up read, ironically about real-life writers most would think unworthy of such a showcase. Their loss, your gain. We simply cannot wait for Malmont's next.
Runners-up: James Morrow's criminally ignored bizarro fantasy THE LAST WITCHFINDER, Hard Case Crime's one-two punch of Seymour Shubin's WITNESS TO MYSELF and Max Allan Collins' THE LAST QUARRY, David L. Robbins' inexplicably overlooked thriller THE ASSASSINS GALLERY, Joseph Wambaugh's welcome return with HOLLYWOOD STATION, Christopher Fowler's addictive whodunit TEN SECOND STAIRCASE and Scott Smith's horrific (in a bloody good way) THE RUINS.