Because time isn't always kind: economic reviews in a world full of waste!
UK horror author Simon Clark rebounds in a big way from the singularly wretched THE TOWER with DEATH'S DOMINION, a modern-day FRANKENSTEIN update. In Clark's imagined near-future, the dead can be resurrected and used as virtual slaves, doing the bidding of their masters without being able to harm them, thanks to some transformation coding. But somehow that last part is lost on Dominion, a monster who clobbers several "Sapheads" (as the humans are called) as he sets out on a revenge-laden journey with fellow "God Scarers" Elsa (subtle, no?) and Dr. Marias in tow. As soon as Dominion revolts – which happens quickly – DOMINION the book takes off and bolts. It may run out of steam before the end, but fright fans will appreciate the straight-ahead horror take as opposed to Dean Koontz's police-procedural approach.
With Steve Niles at the helm, you just know BATMAN: GOTHAM COUNTY LINE is going to go to some strange places. And it does – can you say "zombies"? Aided immensely by Scott Hampton's gritty visuals, Niles' tale starts out as a pure mystery, with Batman doing Commissioner Gordon a favor, looking into serial slayings. What he finds goes against the rules of reality. I won't spoil the reason, only to say it makes sense and addresses an issue I've long wondered regarding superheroes' ability to be only one place at once. Expect not one, not two, but three surprise cameos. And expect a great read. This marks Niles' first association with DC Comics – hopefully one of many more to come.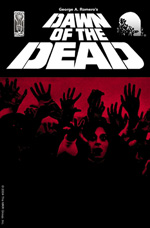 Also by Niles is IDW's DAWN OF THE DEAD, a comic-book adaptation of George A. Romero's landmark zombie epic, coming a long 25 years after the source material. It sticks (with the consistency of blood, mind you) awfully close to the film, earning its status as a straight adaptation. Is such a thing even needed? Not really. Is it cool even still? Pretty much. It has more gushing fluids, flying limbs and exploding heads than … well, just about anything, and Chee's art does not shy away from the gore, providing perhaps more detail to the grue than you'd ever want to see, in bright, four-color format. Faithful to the film and yet very much up Niles' viscera-strewn alley, it's good for horror-comic fans if not exactly what I'd call original.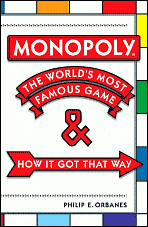 You know how a game of Monopoly can turn from excitement to boredom as it draws on and on? I had a similiar experience reading MONOPOLY: THE WORLD'S MOST FAMOUS GAME & HOW IT GOT THAT WAY by Philip E. Orbanes. Though he clearly knows this enduring board game's history in and out – and who knew it even had one this convoluted? – his writing style is rather plain, ultimately failing to excite. The upfront history is hampered by too many real-life characters, which causes confusion, but later chapters are better, as when he details how video games threatened to send Monopoly to the grave until an electronic version helped save it, not to mention brand-extension efforts that includes the ongoing McDonald's promotion. Points for the extensive photographs of the game, from its hand-drawn inception to the endless anniversary editions, but the near-anal focus on other aspects makes me want to send Orbanes directly to jail.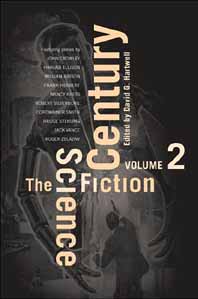 Edited by David G. Hartwell, THE SCIENCE FICTION CENTURY: VOLUME 2 is the new trade-paperback companion brother to last spring's VOLUME 1, both just halves of an out-of-press hardcover edition. But any self-respecting sci-fi fan who doesn't already own that edition needs to own these. Hartwell is an expert at assembling anthologies, and this short-story roundup is no different, even if its lineup isn't quite as strong as the previous volume. I attribute that to this one's heavier reliance on the new stuff, with the roots ignored. Still, there's an impressive mix of authors here, including Cordwainer Smith, Roger Zelazny and Robert Silverberg. You also get William Gibson's original "Johnny Mnemonic" (which I find baffling, in a bad way) and Harlan Ellison's legendary "'Repent, Harlequin!' Said the Ticktockman" (which I find baffling, in a good way).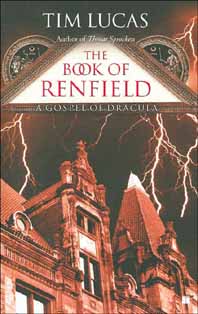 Not content with just writing essays on and reviews of B-cinema, VIDEO WATCHDOG top dog Tim Lucas does his best Bram Stoker impression with THE BOOK OF RENFIELD: A GOSPEL OF DRACULA. This novel – more a gap-filler than a sequel – retains Stoker's structure of telling the story through journals and transcripts as he focuses on Renfield, the righthand (and not of right mind) man of one Count Dracula. As observed by Dr. Seward – when he's not romancing Lucy Westenra, that is – Renfield snubs the food of the asylum and, unbeknownst at first, provides Drac with the figurative key to domination. Lucas cleaves to the throne of Stoker, capturing his very voice (and even lifting some his text outright). This sometimes results in a narrative that is purposely dry, but necessary to preserve the illusion. It works. –Rod Lott
Buy it at Amazon.
Discuss it in our forums.
OTHER BOOKGASM REVIEWS OF THESE AUTHORS:
• BIGFOOT by Steve Niles, Rob Zombie and Richard Corben
• CHRISTMAS STARS edited by David G. Hartwell
• THE CRYPTICS by Steve Niles and Benjamin Roman
• FUSED by Steve Niles
• THE NAIL by Steve Niles and Rob Zombie
• THE SCIENCE FICTION CENTURY: VOLUME 1 edited by David G. Hartwell
• 30 DAYS OF NIGHT: RUMORS OF THE UNDEAD by Steve Niles and Jeff Mariotte
• THE TOWER by Simon Clark