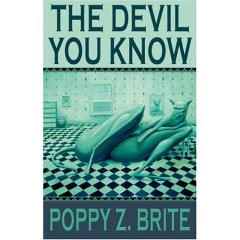 A friend of mine noticed a copy of Poppy Z. Brite's THE DEVIL YOU KNOW on my coffee table, picked it up and said, "That's … different." She was referring to the misshapen cat sprawled across the cover, but as I'd come to find shortly thereafter, her first impression was spot-on.
The stories within aredifferent. A couple of them, most notably the FIRESTARTER-esque "Burn, Baby, Burn," may appear derivative upon first glance, but while readers are likely to think Charlie McGee for a time, they're more likely to remember Liz Sherman from the Kansas side of Kansas City (Hellboy fans already know her, anyway) with as much fear and cautious adoration. And "System Freeze" is set inside the world of THE MATRIX movies, though Brite tells us in her introduction that the characters are hers. Not a big fan of the films themselves, it's easily my least favorite story in this volume of gems.
The title story kicks things off after a telling foreword by the author (I sometimes skip these things but even after Brite's permission to do so, I kept reading). "The Devil You Know" is strange, funny and, like most of the book, compulsively readable. In fact, if you're looking for the slow, Gothic style employed in Brite's previous collections like WORMWOOD, you'll either be disappointed or pleasantly surprised.
Throughout the collection, the writing is tight, the author's sense of humor soars and the dialogue especially rings true. I'd say that the style lies somewhere between the saturated trappings of the aforementioned WORMWOOD and Brite's horror novels like EXQUISITE CORPSE, but even that's not quite right. There's a maturity here that was never actually missing from her previous efforts, with the best example of this probably being the poignant coming-of-age tale "Lantern Marsh." Though I never read it in its original form, the author explains that it is an old story — written around 1983 — that she reworked for the Halloween anthology OCTOBER DREAMS.
"The Heart of New Orleans" is current and moving, and "Marisol" will have you remembering the old adage about dishing it out and taking it, and you'll be smiling and cringing at once. Believe me, it's possible.
If you're familiar with the author's post-horror offerings, you'll find plenty of familiar characters and voices sprinkled throughout this thin volume. If you're not, don't worry — it's still her best collection yet. –Jason Light