Quick takes and capsule reviews from the dark suspense master himself, Ed Gorman!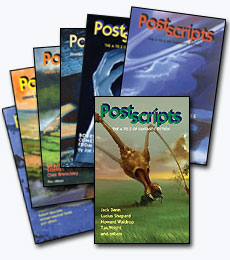 Wouldn't it be nice if there were a sleek, handsomely illustrated, high-quality magazine that published first-rate horror, science fiction and crime tales – one which also featured in its first six issues work and interviews with such writers as Ray Bradbury, Ramsey Campbell, Robert B. Parker, Michael Marshall Smith, Stephen Gallagher, Robert Sheckley, Richard S. Prather, Lucius Shepard, Steven Ercison, Chaz Brenchley and the hottest new name in horror, Joe Hill?
Well, thanks to a fine writer-turned-publisher named Pete Crowther, such a magazine can be yours right now. It's called Postscripts. For full details, visit their website, and while you're at it, check out all the other PS Publishing books as well. This is a unique publishing venture that is a major player in England, but has yet to get the audience it deserves over here.
The August 2006 issue of Postscripts – its seventh –  features work from Lucius Shepard, Stephen Volk, Jack Dann, Rhys Hughes, Jay Lake and many others.
• • •
Two more magazines you should note are Ellery Queen's Mystery Magazine and Alfred Hitchcock's Mystery Magazine, though they both publish stories that stretch the definition of "mystery." I mention this point so you'll understand that they rarely do the old-fashioned, fair-clue, drawing-room type of mystery. Instead, you'll find very contemporary stories here, treated in serious adult fashion.
In addition to name writers such as Joyce Carol Oates and Jeffery Deaver, they also publish a list of people who are some of the best short story writers around: Ruth Rendell, Nancy Pickard, Brendan DuBois, Clark Howard, Doug Allyn and Ed Hoch, who manages to be in every issue of EQ.
Janet Hutchings is the editor of EQ and Linda Landrigan the editor of AH. That they've managed to survive the so-called "death of short fiction" is miracle enough – that they've done it while improving their respective magazines with virtually each issue makes their accomplishments even more amazing.
Here's the magazines' Mystery Place website. Give it a look.
• • •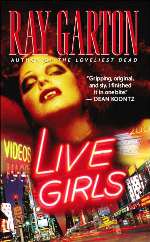 I don't know how many times I've reviewed LIVE GIRLS by Ray Garton, but now that Leisure's brought it out again, I want to at least take note of its reappearance. There are two vampire novels I think you can put on the same shelf with DRACULA and I AM LEGEND. One is 'SALEM'S LOT and the other is LIVE GIRLS.
What Garton has done is take the tropes of the vampire novel and sexualize them in a way that would have been impossible a quarter century ago. This is a raunchy, gritty, sometimes hilarious and always spellbinding novel set in the universe most of us inhabit. At least most of the time – bosses, lovers, budgets, relatives, etc. Where we depart company with the protagonist is when he starts going to live porn shows and, baby, that's when he starts the long, dark slide into several kinds of death.
Garton nails every character. For all the praise laid upon the novel, I've never seen anybody talk about its people. They're great. A few of them I've never seen before anywhere and I don't mean just the vampires. Even the walk-ons have the stink and sass of real people – not necessarily people I'd like to have lunch with, you understand, but real nonetheless.
The other thing Garton does is make the sex here both truly seductive and truly scary. You think AIDS is scary? Wait 'til you meet this crew. This is one of the novels I give mystery readers who are leery of horror. It usually meets with effusive approval.
This is one you've got to pick up.
• • •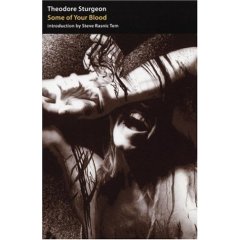 Millipede Press is one of the small publishing companies that have started doing big and important work. How big and how important? How's this for its current offerings?
• SOME OF YOUR BLOOD by Theodore Sturgeon, with an introduction by Steve Rasnic Tem;
• THE FACE THAT MUST DIE by Ramsey Campbell, with an introduction by Poppy Z. Brite; and
• HERE COMES A CANDLE by Fredric Brown, with an introduction by Bill Pronzini.
I can still remember the first time I read SOME OF YOUR BLOOD. This was the summer of PSYCHO, theaters packed. I'd just seen it and had been disturbed by it. Loved it, but it scared me in ways a film had never scared me before. Same with the Strugeon novel. Blood is not only perverse, but perverted, in the dictionary sense of that word – a kind of pornography of oddness as the people involved try to determine the exact nature of a very strange man.
Or as Steve Rasnic Tem puts it in his thoughtful introduction: "I kept reading it becuse I knew what this fellow was – but I had forgotten what I knew. I had kept reading because truth had been unfolding here, an insight into homo sapiens the animal I didn't like to think about. I had kept reading because this book had made me uncomfortable."
I've long gotten over the shock of PSYCHO. But as I discovered a few days ago when I reread BLOOD, I'll never get over the nasty grip this book has on me. It's still shocking and still makes me squirm when I read it. I don't think anybody has ever written a book like it.
• • •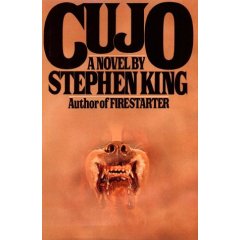 Somebody on Book Talk mentioned novels that deal with the theme of marriages coming undone. He named three novels I'd never heard of.
So I started thinking about books that deal with that theme. First and foremost is MADAME BOVARY. If you're too lazy to read the novel, rent the Claude Chabrol-directed movie. Isabelle Huppert's performance is lacerating. What's amazing is how Chabrol manages to pack in so much of the novel without ever slowing the story.
For me, the grandpappy of all American novels about marriages dying has to be REVOLUTIONARY ROAD by Richard Yates, who, in many respects, was the F. Scott Fitzgerald of his generation. He had a great social eye for all classes of Yankees and could writes senteces that hit you between the eyes like a bullet. (For one of the most important collections of American short stories ever published, pick up THE COLLECTED STORIES OF RICHARD YATES and start with "The B.A.R. Man."
My third choice would be CUJO. Yes, Stephen King's novel about a rabid dog. I consider this one of his six or seven immortal tales. And the husband and wife he gives us … crushing, because most of us have gone through relationships like that. Sad, bitter, scared, self-hating at times, confused … in his way, King gives us his own working-class MADAME BOVARY.
And the husband! King's portrait of him makes me squirm every time I read it. Way too much like me. And probably at least a bit like you, guys. A painful picture of a less-than-perfect mate.
I rarely see CUJO mentioned on the list of King's best; I've always wondered why. But then, maybe I read books for different reasons. The books I remember are those that mean something to me as a human being and CUJO certainly qualifies. The dog is interesting and sad. But it's the husband and wife who won't let go of you. –Ed Gorman
Buy it at Amazon.
Discuss it in our forums.
OTHER BOOKGASM REVIEWS OF THESE AUTHORS:
• ALFRED HITCHCOCK'S MYSTERY MAGAZINE PRESENTS FIFTY YEARS OF CRIME AND SUSPENSE edited by Linda Landridge
• CELL by Stephen King
• THE COLORADO KID by Stephen King
• LIVE GIRLS by Ray Garton
• THE LOVELIEST DEAD by Ray Garton