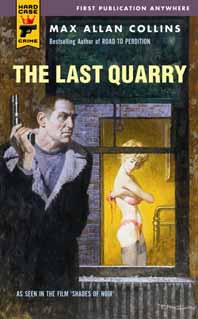 Returning to his popular hitman character, Max Allan Collins provides the sixth and perhaps final Quarry adventure in THE LAST QUARRY. And with this being Hard Case Crime's zippiest and most effortless read yet (and sporting the sexiest cover, no less), I now I have another whole series to investigate, dammit.
Don't take "effortless" to mean "worthless," because the thin novel is rippling with brutal violence and surprising sexuality. Essentially retired from the hired-hit game, Quarry lives quiet at an isolated Minnesota resort lodge, which he takes care of for the owners during off-season. Trouble comes back to his idyllic life when, during a late-night trip to a convenience store, Quarry sees a former client buying snacks and Tampax. Because this acquaintance is gay, Quarry wonders what use he could have for feminine hygiene products, and tails him to a cabin, where he finds his answer in the form of a kidnapped woman being held for ransom.
Quarry saves the day, but demands the ransom anyway for the hell of it. The girl's father is a Ted Turner-esque media magnate named Jonah Green, who soon offers Quarry a job: eliminating Janet Wright, a hot young librarian with an abusive boyfriend. Because a quarter of a million dollars beats a 401K any day, he takes it. Thus begins an episode of surveillance, revenge, passion, double-crossings and more revenge. A lot is packed into under 200 pages, and I savored every turn.
With thought-out plotting and biting wit (one woman wears jeans so tight "she wouldn't have to remove when she next went to the gynecologist"), Collins makes it look all so simple. But that's part of the gambit, and we surrender to his machinations through each well-timed twist. With verve and economy, Collins writes like many of his old-school idols, and when his work is as strong as this, deserves to stand alongside them. He's an underrated author who pumps out some real gems; with THE LAST QUARRY, it's damn time you took notice. –Rod Lott
Buy it at Amazon.
Discuss it in our forums.

"Her confusion didn't leave, but she began to smile, wide, a kid Christmas morning, seeing her gifts. Her gift to me was dropping the blankets and sheets to her waist. The cute cupcake breasts had pierced nipples with rings, like beer cans waiting to be opened. … She was a beautiful piece of ass, no question, and even with those rings in them, the titties were as cute as puppy dogs."
OTHER BOOKGASM REVIEWS OF THESE AUTHORS:
• THE WAR OF THE WORLDS MURDER by Max Allan Collins