As you might know already, it's Friday here at the spacious BOOKGASM headquarters. As the office assistants have a water balloon fight and some guy in an ape suit slides down the pole leading to the first floor, here I am, working to give you, the reader, the best semi-humorous weekly wrapup available on this site.
I don't need your pity – just your eyeballs, people.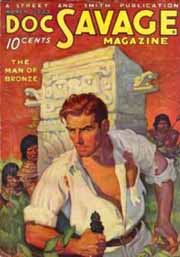 MONDAY >> 6.26.06
Our interpid reporters for the NEWSGASM feature are still hard at work, which is amazing considering the pay (low-20s) and the benefits (limited beatings). I, for one, am pleased as punch about that, because now I know that there are going to be Doc Savage/The Shadow two-in-one reprints on the way. Who's your favorite of Doc Savage's super crew? Mine's "Rennie" Renfield, the expert engineer with ham-sized fists that could punch the panels out of doors. He didn't take part in all of Doc's adventures, but when he did, you knew he was going to punch somebody.
There was other news, too, (the Stoker Awards, Hard Case kudos, Alan Moore's X-rated fantasy series), and I applaud our writers' restraint in mentioning M. Night Shyamalan without making fun of his name. That's played out, but making fun of his movies never gets old.
Rod Lott can't get enough of Christopher Fowler. He lavished heaping praise on TEN SECOND STAIRCASE, the latest novel in the Peculiar Crimes Unit saga, saying that Fowler deserves recognition on the level of the very greatest mystery writers. Well, if he wants that to come true, the titles of Fowler's books need the words "murder" or "death" pronto. TEN SECOND STAIRCASE? That's on the Home and Garden Network, right?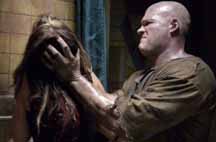 TUESDAY >> 6.27.06
Movie novelizations and movie spin-off novelizations have been on the upswing here at BOOKGASM, and that fairly unsettling trend continued with Rod Lott's review of SEE NO EVIL, the novelization of the horror movie starring apparent wrestler Kane. Despite having all these strikes against it, Rod saw good prose and solid horror. I'll take his word for it.
The BOOK WHORE let us in on the week's new releases – a fairly dull lot, with the exception of the summary for James Rollins' BLACK ORDER. The person who writes these summaries should write the novels, because Rollins is one of the most overpromising and underdelivering mothers of the publishing world.
Before he sold his name to a shaving gel company, EDGE was a hard-ass ultra-violent Western anti-hero. Who knew? Bruce Grossman did, and he laid it out for us in glorious, violent technicolor for this week's BULLETS, BROADS, BLACKMAIL & BOMBS. Edge's real name is Hedges, and mix in the fact that he has a razor secreted somewhere on his person, and viola! A snappy nickname is born. Add to that so much violence it became a selling point (now with two times the bloody just desserts!), and I have no idea why these aren't sought-after collector's items. They're colorful, violent and, best of all, cheap to get out there and consume!
WEDNESDAY >> 6.28.06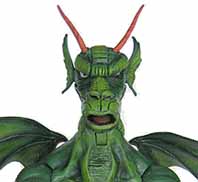 MARVEL MONSTERS is exactly what the industry is looking for right now. Nostalgia for somewhat average titles is running high, as are reimaginings of classic characters and themes. The melange of both provided plenty of good readin' at the Lott household, although I think saying "Fin Fang Foom" too much could stunt his kids' growth.
And no, I don't know why I think that.
Moving on, Mark Rose made his debut on this week's hit parade with a look at the holy thriller THE THIEVES OF HEAVEN. Rose had effusive praise for Richard Doetsch's style and ambition, and seeing as how everybody's crazy for books involving those Catholics lately, I'm sure it'll be an absolute smash hit. I bet it doesn't happen here, but it's time that one of these kind of books shows the world the hand grenade that the Pope keeps under his hat. That would be awesome. He'd be all like, "Kiss this, sinner!"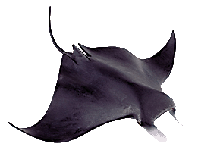 THURSDAY >> 6.29.06
Practicioners of water sports beware! The flying mutant manta rays are here! So goes the premise of NATURAL SELECTION, a science-driven thriller that's a bit too heavy on the science and a bit too light on the hovering mantas of death, according to Rod Lott. I ate ray at a seafood restaurant once, so here's to hoping that this is fiction.
This is the part of the REGASM in which I am startled at my seeming bad taste: Yes, I liked WIDDERSHINS. Yes, I got sucked in despite its Celtic/bohemian hipster stylings. Yes, my name is spelled funny. Ha ha. Laugh all you want, laughers. But I know that when I discover the Fairy Overlords that rule us all, I get to play the pipes at the fairy prom, and you'll just be slaves, forced to follow my fairy minion orders. So there. (Fun fact: When Rod first mentioned he was sending this book to me for review, he couldn't remember the title and called it WONDERSHITS. Ha ha! How does he do it?)
FRIDAY >> 6.30.06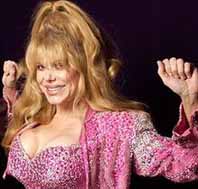 Checking out the top search terms that lead people to our humble site is the best feature we've got. You just can't dream up things like "mrskin.com password latest june 2006" or "rituals involving semen." Also, when's the last time a Google search for someone automatically turned up photos of their boobs? I mean, I look for nude shots of Charo all the time, and I get nothing. Nothing.
And the week is wrapped up with Rod's take on Dean Koontz's THE HUSBAND. What would you do if your wife was kidnapped and the criminals demanded $2 million? I think that in a lot of cases you could just wait it out, RANSOM OF RED CHIEF-style.
Rod tells me Monday's posts will come late in the day instead of the usual early morning. So have a great holiday, everyone. Don't blow off any limbs with illegal fireworks purchased in neighboring states (or nations), and get in some substantive summer reading. Until next week, I'm out. –Ryun Patterson