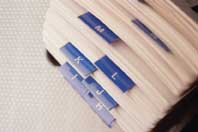 As BOOKGASM grows in popularity and nears its one-year anniversary, it's time to expand the staff. We're in immediate need of one book reviewer who doesn't mind getting paid anything except in free books and glory. Particularly, we're looking for one whose tastes run toward all types of thrillers and general literary fiction (and if you like other genres, too, even better).
If that's you – and you fit the rest of the qualifications below – e-mail me a couple of sample book reviews (old, new, whatever) and tell me a little about yourself and what kind of things you like to read. We've got a few titles waiting for whomever gets the "job."
You must be:
1. Able to read
2. Able to write
3. Able to read a book and write a review within a fair deadline
4. Able to e-mail that review
UPDATE: The position is filled, but keep checking back for future opportunities!