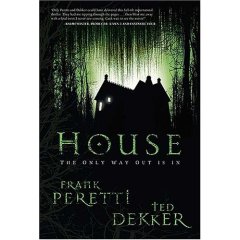 Both known for supernatural thrillers, authors Frank Peretti and Ted Dekker team up for the first time to bring you HOUSE, a well-designed horror novel with built-in wide appeal.
Jack and Stephanie are an on-the-rocks married couple whose car is sabotaged by road spikes, stranding them in the middle of nowhere (aka Alabama backwoods), but conveniently near an old inn, where they seek help. So do Randy and Leslie, an unmarried, selfish pair whose car also mysteriously was felled. Their hosts are an inbred family of three, the son of whom is mildly retarded and wants to make Leslie his wife. HOUSE immediately subverts your expectations by making these kooks into "Jesus freaks"; true, plenty of horror novels do the same, but given Peretti and Dekker's allegiance to evangelical themes, it's a bit of a surprise. However, they actually have a reason for doing so.
Our castaways' hope for a safe and pleasant evening are summarily dashed and then outright shattered with the appearance of the Tin Man, a local serial killer so named become of his jagged-metal mask. He wants to play a game: They have until dawn to give him a dead body, or they all die. The foursome retreats into the basement for safety – a bad move, since it's a cavernous maze of pitch-black tunnels, demons, dopplegangers and strange rooms in which the impossible comes true.
Early on, HOUSE elicits a major case of the creeps. That power is diminshed somewhat by an overlong chase (roughly two-thirds of the book), which further serves to underwhelm the ending. Still, its premise and pacing recall some of the down-and-dirty thrillers of Dean Koontz (not to mention elements of SAW and DELIVERANCE), and predictable it is not, partly because the authors withhold as much information from us for as long as possible, lending the events in the basement a surreal, nightmarish quality. Their writing style is simple but effective, drawing you in early on and refusing to loosen its grip.
The mark of any good scare story is whether it can rack the nerves. HOUSE certainly does, even if its nihilism-free outlook and outcome is more positive than others. This metaphorical good vs. evil tale is still violent, with lots of bloodletting, so it's sure to please fright fans. If so, the supplemental material allows you to sample the authors' other recent solo works, SHOWDOWN and MONSTER. And if that's not enough, the publishers have handily supplied a DVD full of trailers, behind-the-scenes material and trivia games for Hollywood's Peretti and Dekker adaptations (HANGMAN'S CURSE, THE VISITATION and THR3E), a club to be joined by HOUSE in 2007. –Rod Lott