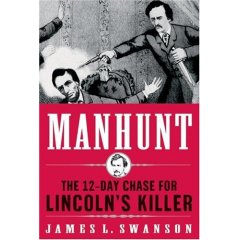 This new year may be but one month gone, but I think we have a clear contender for the best non-fiction book of 2006 in James L. Swanson's MANHUNT: THE 12-DAY CHASE FOR LINCOLN'S KILLER. Everyone knows the story of President Abraham Lincoln's assassination at Ford's Theatre the night of April 14, 1865, but what happened afterward is, arguably, a story every bit as interesting, if far less often told.
Swanson's book puts a real face on Lincoln's murderer, egotistical actor/lothario John Wilkes Booth. A Confederate sympathizer and white supremacist, Booth was angered at the President both for the surrender of Robert E. Lee in the Civil War and the President's subsequent decision to award blacks the right to vote, which Booth decried as "nigger citizenship." MANHUNT's first third deals with the planning, execution and immediate aftermath of the assassination, not at all the simple, point-and-shoot affair as textbooks would have you believe. With a band of recruited conspirators, Booth first had hatched a plot to kidnap the leader; when that was thwarted, he seized on the opportunity of Lincoln's public appearance at Ford's, formulating a new plan in less than a day, no less complex.
Except this one was no mere kidnapping. And it called for the simultaneous murders of Vice President Andrew Johnson and Secretary of State William Seward. Booth left those to his associates, who promptly botched them (you'll find all the details, ranging from the gory to the comic, here), while taking the biggest assignment for himself. After succeeding, he broke his leg jumping on the theater stage in his escape. That fracture should have proved an omen to the week and a half that followed, a bizarre series of misadventures that occasionally find him in good luck, but more often find him at the mercy of his injury, grown so large he cannot remove his boot. At one point in his journey that crosses three state lines, Booth loses a day when he inadvertently rows the wrong way up the Potomac, and near the end meets his fate in the form of a man who has castrated himself. I certainly don't remember learning that in Mrs. Denton's class.
So hateful of the powers that be and showing no remorse for his crimes, Booth struck me as the precursor to Timothy McVeigh, albeit with the added value of charm, talent and good looks. You get to know him well, so strict are his politics, so deluded his thinking. Swanson's narrative is wholly absorbing, as it reads like fiction. Assembled from original sources, it also has the benefit of being real. It really is, as he writes in his introduction, "far too incredible to have ever been made up."
With its wide array of colorful characters both good and bad, and Booth's every hour accounted for, MANHUNT plays out like a colonial version of 24. It is the most accessible and suspenseful true-to-life tale since Erik Larson's THE DEVIL IN THE WHITE CITY. Beautifully designed and supplemented with period photographs and illustrations, it also certainly stands as the definitive book of its subject. I don't often read history books because I find them so dry, but MANHUNT is alive. It's one to savor. –Rod Lott