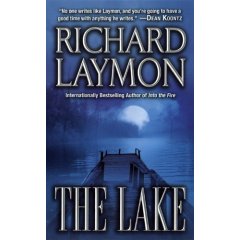 Richard Laymon's latest posthumous novel, THE LAKE, begins with a teenage girl named Deana watching her boyfriend get killed by a man in a chef's hat at their makeout point. It's kind of like how her mom Leigh watched her own boyfriend die post-orgasm in a rickety old cabin during that one summer at the lake 18 years ago.
Could the two incidents be related? Of course they could. How else could Laymon stretch this thing out to 400 pages otherwise? I liked the first two-thirds of THE LAKE, but the rest falls victim to dialogue that rings false, piss-poor plotting and an unforgivable absence of logic. In real life, two women living on their own as Leigh and Deana do wouldn't hang around the house when they know that not one but two killers are on the loose and out for their blood. Nor would a loving mother like Leigh leave her daughter alone in the middle of the night amidst all this craziness to go settle a fight at her restaurant. These two just don't know how to dial 911.
But they do know how to get freaky. The sex is always abundant and fairly explicit in Laymon's novels, but these gals have to be the horniest female characters he's ever written. Alas, this isn't enough to save THE LAKE from drowning in its own mediocrity. Tighter plotting and more believability may have resulted in a more satisfying suspenser, but what we have is something like feels like a hasty first draft. It's not the worst of Laymon's books I've read, but there are far better ones.