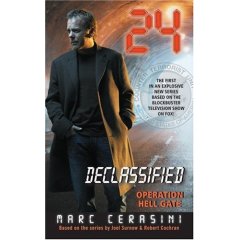 Fox's Emmy-winning series 24 starring Kiefer Sutherland is my definition of "appointment television." It sits atop the list of Season Passes on my trusty TiVo. I've loved it since it debuted four years ago.
So how in the hell did this news skip me by?
I was at the bookstore this morning and happened upon the brand-new paperback 24 DECLASSIFIED: OPERATION HELL GATE by Marc Cerasini. Of course I had to buy it. I've already started reading it, so check back next week for a full review.
This is the first of an original series of novels (not novelizations) which will begin rolling out in fairly quick succession. Here's the schedule thus far:
• 24 DECLASSIFIED: VETO POWER by John Whitman – Nov. 2005
• 24 DECLASSIFIED: TROJAN HORSE by Marc Cerasini – Feb. 2006
• 24 DECLASSIFIED: CAT'S CLAW by John Whitman – March 2006
• 24 DECLASSIFIED #5 by Author to Be Named Later – April 2006