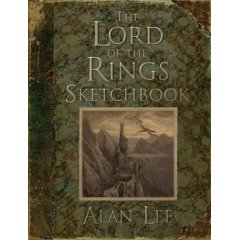 Alan Lee, the Academy Award-winning conceptual designer for Peter Jackson's insanely successful LORD OF THE RINGS trilogy, is set to get fans' tongues wagging this fall with THE LORD OF THE RINGS SKETCHBOOK. The book includes more than 150 of Lee's illustrations, showing how his imagery progressed from page to screen. The volume also features 20 full-color plates.
Lee will be embarking on a 10-city tour to promote the book with signings, Q&A and a slide show. The schedule is as follows:
• Oct. 22 / Books of Wonder, New York City, NY
• Oct. 24 / Friends Select School, Philadephia, PA
• Oct. 25 / Chapter 11, Atlanta, GA
• Oct. 26 / BookPeople, Austin, TX
• Oct. 27 / Tattered Cover, Denver, CO
• Oct. 28 / Borders, Murray, UT
• Oct. 29 / Book Passage, Corte Madera, CA
• Oct. 30 / The Booksmith, San Francisco , CA
• Oct. 31 / University Bookstore, Seattle, WA
• Nov. 1 / Powell's Books, Beaverton, OR
The SKETCHBOOK is due out Oct. 19, but you can preorder it now.